How to choose the right bra?
Finding a bra that fits you like a dream seems like a dream! Doesn't it? Especially if you have just started wearing bras. What is my size? How to measure my size? What is under bust/over bust? All this sounds confusing right? Worry not, we have got it all covered in this article.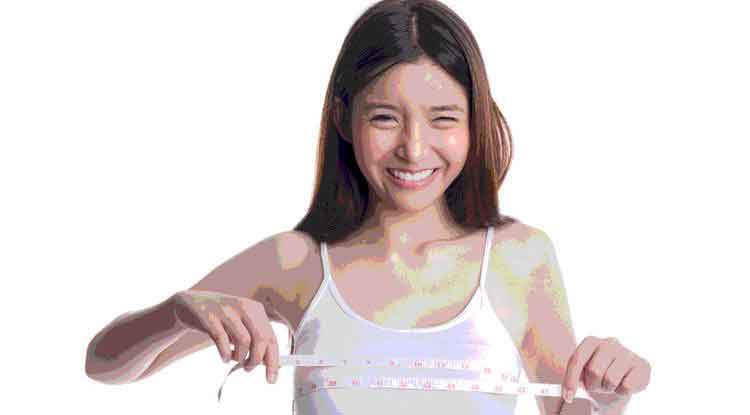 Photo credit: Shutterstock/artemisphoto/Person in the photo is a model. 
What will I measure? 
First things first, get a measuring tape. For the right bra size, we just need two measurements. One is cup size i.e the size or volume of your breast area, also known as overbust; and the other size is your band size, below the breast/torso or around your rib cage – also known as underbust.
Band sizes/underbust sizes mostly come in numbers like 28, 30, 32, 34, 36 etc. while cup sizes are alphabetical – A, B, C, D and so on. 
How to measure band size? 
To measure the band size or underbust area, put the tape under your bust/breasts, where we tie the bra band, around your rib-cage. Measure from back to front in inches. See image below: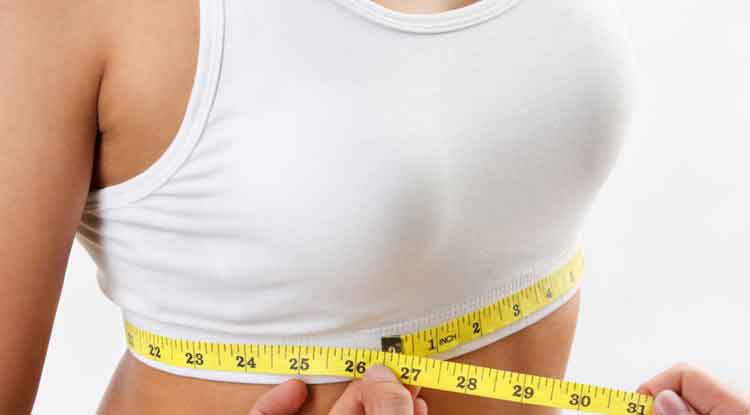 If the whole number is even, add four inches to it. If it's odd, add five. Your band size is the sum of this calculation. For example, if you measured 32 inches, your band size is 36. If you measured 33 inches, your band size is 38. 
How do I know if my band size is right? 
The bra band should sit perfectly below your breast, around your ribcage and should be in a straight line. 
If the band is arching up, it means the size is loose. Hook up in the second loops to tighten it. If this does not work, move to a sister size bra i.e. decrease the band size and increase the cup size for example if you are using 36B try 34C. 
If you see the band digging into your skin and leaving a mark, it means it is tight. Another sign of a tight band is that the skin may bulge out and make you uncomfortable after a while. Loosen the hook from behind if you are in the second or third clasps of hooks. If the band is still tight, increase the band size and decrease the cup size i.e. if you are 34B try 36A.
How to measure cup size? 
Measure your cup size by wrapping your measurement tape around the fullest part of your breast or bust and round it up to a whole number. See image below: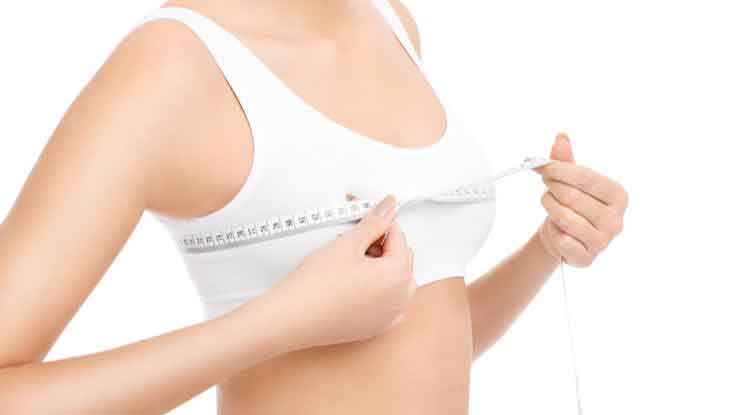 How do I know I found the right cup size: 
The right cup should fit the breast from front and the sides. 
If the cup size is too tight, your breasts will bulge from the top of the bra or from the sides. Try the bra of the next cup size. If you are trying A cup, try B. 
If the cup size is loose, there will be a gap between the breasts and cup or your bra can wrinkle in some places. Wear a cup size smaller.
How to find your final bra size? 
Let's use some basic mathematics to find your true bra size. Yes, maths, yahan bhi! But don't worry, it's very simple. 
Bra size = bust size – band size. 
This should leave you with your final band and cup size. For example, if your bust measures 32 inches and the band measures 31 inches, then that person will be 32 -31 = 1 . Now 1 corresponds to the letter 'A'. So the bra size is 32 A. 
Another example:  If your bust measures 38 inches and the band measures 36 inches, then that person will be 38 – 36 = 2 . Now 2 corresponds to the letter 'B'. So the bra size is 36 B. See image blow for the bra size chart: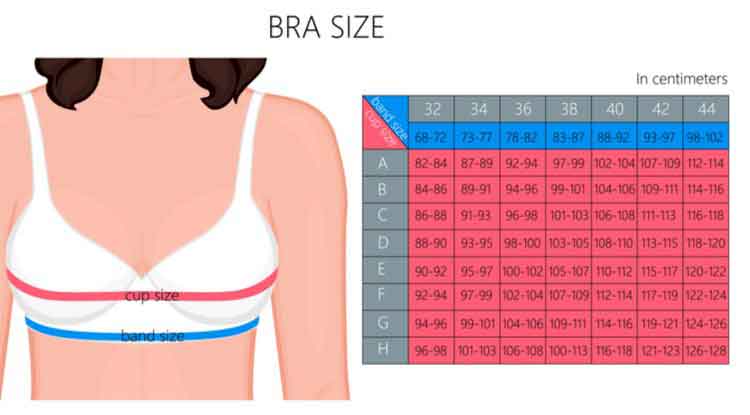 What about bra straps? 
The right strap should sit on your shoulder perfectly and not too tight or too loose. 
It should neither dig into your shoulder skin nor fall off the shoulder. 
If the straps are falling off your shoulders, they are loose. You can solve this problem by tightening the straps.  
If the straps are cutting into your skin and leaving marks too, that means they are too tight. Try loosening the strap or increasing your band size.
Tips to measure correctly:
If one of your breasts is larger than the other, which is quite common, take the measurement of the larger breast.
Do not take measurements over the clothes. If measuring at a store or outside home, make sure you are wearing a non-padded bra. 
Make sure the tape is not too tight or too loose. It should just be comfortable. 
Slip a finger through the gap between the measuring tape, when measuring the band size. Leave an inch of gap between the tape and your area to get a comfortable band size. 
What are sister bra sizes?
Sometimes, no matter what we do, a bra does not fit that wek. It mostly happens to females with smaller bands and large cup sizes or vice versa. They can consider sister sizing. The rule to measure here – if you increase the band size from your measured size, decrease the cup size. If you are 30C but the bra does not fit properly, then you can try a sister bra size of 28D or 32B.
Do you have any questions that are bothering you? Share with us in the comments box below. Remember no rude words or personal information in the comment box! 
Listen to the podcast here-