Which country has a rainbow flag?
It's June and Aahana (13) has seen several rainbow flags on her Instagram page. She wasn't really sure what country the flag belonged to and why was everyone posting it in June! Should she ask mom?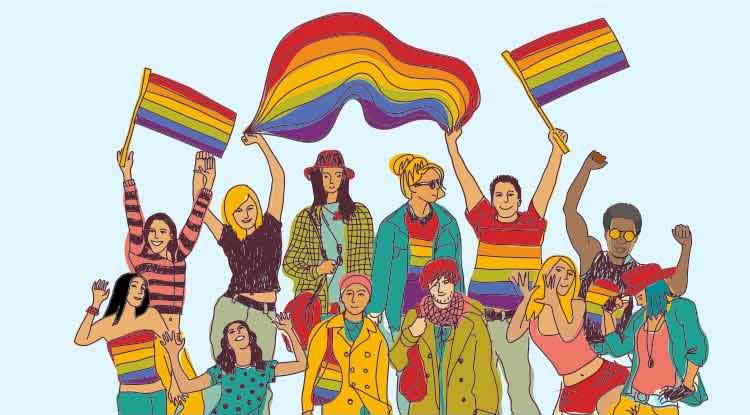 A people's flag
'Mom which country has a flag with rainbow colours? And what is the meaning of Happy Pride month?' Aahana asked her mother as she was working on her laptop.
Tahira has been working from home for the past three months now. It was Friday today and she was about to wrap up her work for the day.
'So many questions in one go! What have you been upto?' quizzed Tahira, shutting her laptop.
'Mom, actually I saw it on your phone on my Insta account. Many of our school seniors have also put rainflow-themed colours on their profiles. People are using happy pride month and LGBT hashtags. What does it all mean?', Aahana could not control her curiosity!
'Aahana, the rainbow flag is not a flag for any country. It's a flag that represents a group of people, irrespective of their country and everyone is using it to celebrate the Pride Month, which is marked every year in June. It is celebrated by the LGBT community and everyone else who supports them. Let me explain to you about everything in detail. One by one.'
'OK mom, I have all the time today!'
The king and the king
'So Aahana, we have all grown up listening to stories where there was a king and a queen, or a princess and a prince, Romeo and Juliet or Aladdin and Jasmine, right? They fall in love, have families, and live happily ever after. Right?', Tahira said.
'Right mom, I used to love such stories. Why don't you tell me stories now?' Aahana mocked.
'I am now Aahana, only if you listen! Now, let's think about another scenario. What will the story be when a king and another king live together, or two princesses who fall in love with each other, or say Aladdin does not fall in love with princess Jasmine but the genie instead? Have you ever thought about this possibility?' Tahira asked.
'Wow mom, it would be so much fun! But you are right, I never thought about this possibility. You mean it is possible for two men to have a family and a woman to like another woman and not a man!' Aahana was surprised.
'Yes, exactly. That is possible. It's common to feel attracted to someone from the same gender. It's possible that boys are attracted to boys and girls attracted to girls,' explained Tahira.
People who fall in love with persons of their own sex are known as homosexuals or Lesbian, Gay or Bisexuals depending on who they like.
Transgender is a slightly different identity. Here, a person who is born with a certain sex, does not identify with it. For example, if you were born as a female but you felt more like a boy, you would be described as a transgender.
Pride month in June
'So, let's come to Pride month now. People from the LGBT (lesbian, gay, bisexual, trangender) community all wound the world celebrate the month of June as Pride Month. They take out marches, have events, concerts and feel happy and proud of what they are. Global Pride Day is celebrated on June 27,' Tahira said.
'Can anyone join their marches?' Aahana asked.
'Yes even if you do not belong to the LGBT community but want to show support, you are welcome to join the celebrations as an ally or a friend. It is an opportunity to show support to your friends from the community, to listen to them and learn more about their lives,' Tahira explained.
'Is it celebrated in India too?' Aahana asked.
'Yes, it is very much celebrated in India. Pride marches are now held in most big cities including Delhi, Mumbai and Bengaluru since almost two decades now. It is also held in other cities like Bhubaneswar, Kerala, Bhopal Surat, Hyderabad, Chandigarh, Guwahati, Bhawanipatna (Odisha), Gurgugram and even Dehradun!' said Tahira.
'Mom, when is the Delhi pride parade happening?'
'I don't think it is happening this year. Unfortunately, in 2020, a lot of celebrations will be moved online to keep to social distancing rules because of the COVID-19 pandemic,' Tahira answered.
'Hmm, sad. I wish I could see one Pride parade one day. It will be so much fun!
'We can surely go for the one next year', Tahira assured Aahana.
A peep into the past
'But mom, how did it all start – I mean the Pride month celebrations?' Aahana's questions were not over yet.
'Good question!'
'Well, it has a bit of a sad start, all the way back on June 28, 1969 when police raided a gay bar in New York and arrested people because being a gay was not accepted at that time. It was looked down upon even in America. People revolted and the riots that kicked off that day lasted for three days. These riots then paved the way for the movement for the rights of LGBT community not only in the US but also in other countries,' explained Tahira.
The colours of unity
'How fascinating Mom, but how did the rainbow flag come about?,' asked Tahira.
'That I do not know honestly! Let me Google,' Tahira said as she picked her phone to check.
'So Aahana, in 1978, artist and designer Gilbert Baker designed the first rainbow flag for San Francisco's Pride month celebrations. The colours of the rainbow represent many groups within the LGBT community,' Tahira said reading from her mobile.
'Oh such a pretty symbol for unity! I feel so enlightened today! It really helps to have these chats with you,' Aahana said hugging her mom.
And also, can we please order pizza today to celebrate the Pride month?' Aahana chuckled.
'Let's make one at home today! What do you say? We can try making a rainbow pizza!' Tahira smiled and pulled Aahana to the kitchen with her.
Do you have any questions that are bothering you? Share with us in the comments box below. Remember no rude words or personal information in the comment box!