Sneha was under a lot of pressure and stress when she was about to choose her subjects for class 11. She made a decision for all the wrong reasons and later regretted it. How did she eventually realise her mistake? She shares her story with TeenBook.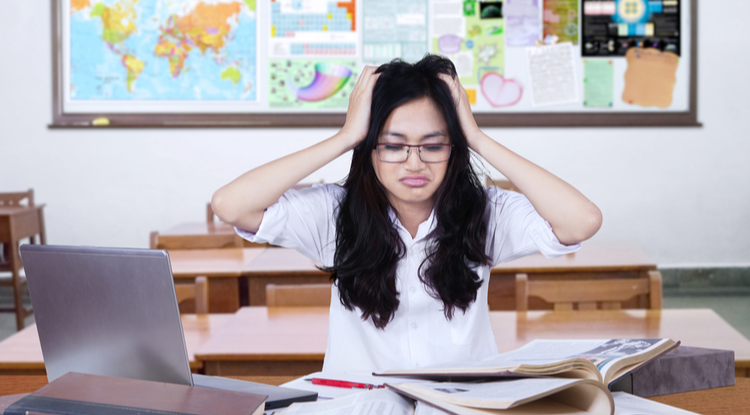 Photo: Shutterstock/Daniel M Ernst/Person in photo is a model. Names changed. 
There was no time!
I think I am good at studying. In class 10, when I had my board exams,  I was so focused towards the preparations for my exams that choosing a stream for class 11 wasn't even on my mind. 
At the end of class 10, we all got a stream form to fill where we had to put what subjects we would like to choose for Classes 11 and 12. I was baffled. I thought that I had enough time. I realised that I needed to make a decision quick. I panicked and started filtering out subjects I liked or disliked.
But irrespective of my likes or dislikes for those subjects, I was hell bent on choosing Physics, Chemistry and Maths as my subjects. Let me tell you why! 
I didn't want to be left out
My starting point was my friends, what subjects were they opting for. I spoke to them and found out that most of them had decided to take up science and only a few ones were signing up for commerce or humanities. They were actually looking down upon anyone who did not choose science! 
I didn't want to feel left out when I had a pretty good chance of being in the same classroom (section) as the rest of my friends. My friends further influenced me into taking science. 
"You'll have a lot more career options, after you finish school, than the students taking commerce and humanities, Sneha!" Tarini said. 
I was so easily convinced by my friends. On top of that, my relatives too interfered heavily in my decision making process. 
I recalled my chachu telling me this a few months ago, "Maths is a must, beta. Without it, your options after school will almost be nothing. What will you do then, beta?" 
A huge struggle
However, my parents were very supportive. They told me to choose my subjects without caring about what everyone else was saying. But I ignored their advice and told them that I wanted to take Physics, Chemistry and Maths. 
I felt I was doing the right thing and will have all my friends with me. Life will be good! But I was so wrong! 
Almost two months into class 11, I could neither relate to nor understand the concepts that were being taught in class. The subjects were so much more complicated than what we had done in class 10. I couldn't understand this sudden shift in the difficulty level!
I didn't know how to gather the courage to tell my parents. I decided to talk to one of the seniors instead. 
"It's alright, Sneha. Breathe. You need to share this with your parents. The difficulty level will only increase and trust me, you will later regret not changing your subjects while you had time", said Shamita didi. 
Talk to the parents
After hearing the experiences of my seniors, I finally decided to talk to my parents. My parents were glad that I had the courage to talk to them. After a lot of research, while keeping in mind various factors like my interest, preference, aptitude and future opportunities in mind, I arrived at a decision. 
I decided to switch to humanities with maths. My school was considerate enough to give a period of two months to students to change their stream in case of any difficulty or a situation like mine was!  
But unfortunately, not all the schools give this option to their students. That's why it is important to not come under any sort of pressure while choosing your subjects for class 11. Do your research and keep all the factors in mind while making decisions like these that directly affect your future. 
My two cents
My advice – listen to your instinct and gut. Never fall for peer pressure or what your friends or relatives might say. You know what is best for you. Talk to a counsellor if you feel confused but do not rush into this decision. Take your time. 
And even if you have taken certain subjects and now feel that you cannot cope with them, it's not the end of the world. Don't be shy to talk to your teachers or parents. Earlier the better! 
Photo: Shutterstock/Creativa Images/Person in photo is a model. Names changed. 
Do you have anything on your mind? Share with us in the comment box below. Remember not to put any personal information in the comment box.